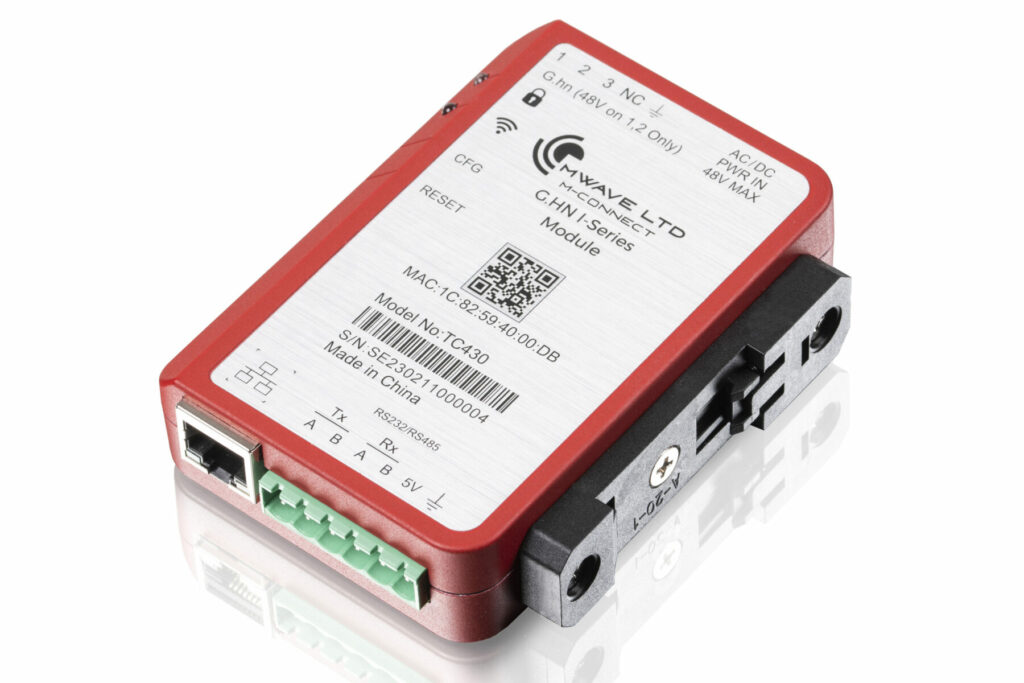 Industrial G.hn module from MWave enables high speed communications over pre-existing cabling infrastructure / Enables swift, cost-effective implementation of M2M and IIoT installations
Enables swift, cost-effective implementation of M2M and IIoT installations
June 1st 2023, Aldermaston, UK: MWave, the leading RF design consultancy, today announced the launch of its I – Series G.hn Industrial Module (TC430) which is optimised to enable the cost-effective roll-out of G.hn solutions in industrial environments. G.hn allows high speed communications networks to be installed using any pre-existing infra-structure, such as coaxial cable, telephone wires, CAT5 or powerlines.
Explains Richard Welland, Director, International Sales & Marketing, MWave: "The biggest challenge faced when implementing a high-speed communications network capable of supporting Industry 4.0/IIOT practices in an existing industrial site, is installing new cabling in floors, walls and ceilings. G.hn saves all this disruption and expense, as it operates over the cabling that is already present." G.hn systems can pass data at very high speeds – up to 2.5Gbits/s (over co-ax with MIMO) – delivering point-to-multipoint (P2MP) connectivity for up to 250 nodes.
MWave's I – Series G.hn Industrial Module (TC430) is configured for use over power cables typically carrying 24, 32 or 48V DC (or AC). It allows up to 14 nodes to be connected to form a mesh network. This topology and node count will cover many industrial applications. The module has a single 1 Gigabit Ethernet Interface which will satisfy most requirements at an affordable cost. The module also supports RS485 or RS232 serial interfaces that are commonly found in industrial installations such as factory automation and telemetry.
The module is supplied DIN rail mountable in a robust aluminium cast enclosure, and comes with connectors for ease of installation. Status LEDs, Reset and Configuration buttons are recessed to stop accidental use.
MWave is a UK-based SME headquartered in Aldermaston. Originally a consultancy specialising in the design and development of RF/Microwave circuits and full-product systems, the company is now producing its own products, beginning with the plug-and-play I – Series G.hn Industrial Module for IIoT installations.
MWave has long-standing partnerships with Maxlinear, a leading provider of radio frequency (RF), analogue, digital and mixed-signal integrated circuits for the connectivity and access, wired and wireless infrastructure, and industrial and multimarket applications; and Shengyang Electronics (China) – manufacturing.
MWave is a member of the Home Grid Forum.
To find out more about how we can help you reaach out to us today.